MANCC Welcomes Resident Artist Rosy Simas
February 25 – March 5
Informal Workshop Sat, March 3 at 3pm
---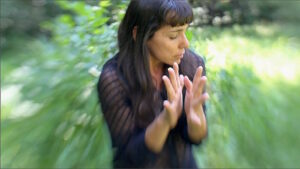 The Maggie Allesee National Center for Choreography is pleased to host McKnight Artist Fellow Rosy Simas in residence to continue to develop her project Weave. Known for her work that unifies physical movement with time-based media, sound and objects, Rosy Simas' (Seneca, Heron Clan) choreography unites cultural ideas and images with scientific theories to build narratives that are both literal and metaphoric. Simas has been honored by the Native community with a Native Arts and Cultures Foundation Fellowship (2013), a First Peoples Fund Fellowship (2016), and a residency at the Banff Centre Indigenous Arts Program (2013). From the arts field she's been recognized with a Guggenheim Fellowship (2015) and a McKnight Choreography Fellowship (2016), and her work has been supported nationally by New England Foundation for the Arts and National Performance Network.
Weave honors the interwoven and interdependent nature of our world. Individual histories are woven into a performance that envelops the audience in an immersive experience of story, dance, moving image, and sound.
For many Indigenous peoples, weaving is a way of life, an individual and communal act in which cultural stories and tribal knowledge are conveyed. Stories within cultural materials seem invisible, intangible, until they are made and shared. Weave crafts stories though Simas' embodied lens as a Native feminist movement and image-maker.
Weave will be created in a site-specific way for each community in which it tours. For Simas, site-specific means more than location. It is the community that occupies the space, the territory, and the Native history of the place.
When Native artists create work for Native audiences—a natural process prior to colonization—we disrupt expectations about who is deemed worthy and appropriate to receive the gift of art. When broader audiences are welcomed into that space of creation, alongside Native people for whom the work was created, there is a deepened intimacy, a conversation shared, the universe revealed through the specific.
Simas is asking critical questions regarding her relationship to the Native communities she is engaging, her relationship to non-Native audiences, and what it is to create dance for western constructs from a Native worldview.
What can Native cultures teach non-Native audiences about art in less transactional, and more relational ways? How can I interrupt normative notions that performance by Native artists and artists of color must merely educate people? How can we break barriers between people of different experiences to diminish the cultural voyeurism that can happen when less diverse audiences engage the work of Native choreographers and choreographers of color?
Simas' work employs a Native circular model of creation (birth-life-death-birth). She works with other artists cyclically (research-rehearsal-performance-research), engaging Native and non-Native community participation in multiple cities. Simas continually loops in new information, allowing her to disrupt conventional performance expectations by making work that is always evolving, with local audience interactions to continually reshape the work.
As a part of her personal mandate to center Native and indigenous voices in her work, Simas engages with Native people in every community where her work is created and presented. At MANCC, Simas will meet with Dr. John Lowe, Director, and Dr. Melessa Kelley, Post-Doctoral Scholar, at FSU's Center for Indigenous Nursing Research for Health Equity.
As a part of MANCC's Embedded Writers Initiative, Simas and her collaborators will be joined by Heid E. Erdich a Native poet and scholar based in Minnesota, and Ahimsa TImoteo Bodhrán, scholar American Studies at Michigan State University whose research is focused on queer Indigenous literature, art, and thought. This initiative, funded by The Andrew W. Mellon Foundation, is designed to support the re-imagining of dance writing conventions in order to better respond to and engage with a wider range of ever-evolving contemporary forms.
The residency is supported, in part, by a partnership with McKnight Choreography Fellowships, funded by The McKnight Foundation and administered by The Cowles Center For Dance & The Performing Arts.
We'd also like to emphasize that Rosy will have an informal work-in-progress showing this Saturday, March 3, 3pm, in Montgomery Hall's Black Box studio. We are collecting RSVP's at info@mancc.org.

The Maggie Allesee National Center for Choreography (MANCC), at the FSU School of Dance, is a choreographic research and development center whose mission is to raise the value of the creative process in dance.