MANCC's Chris Cameron's Film Selected for "The Other Film Festival" in Australia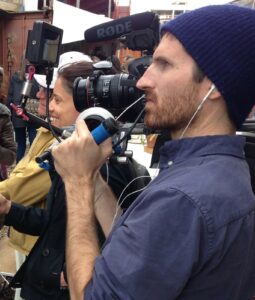 As the only choreographic center in the United States that is located within a research university, FSU's Maggie Allesee National Center for Choreography is consistently evaluating how to support the evolving needs of movement/body-based arts practitioners working professionally in the field of dance and performance. Beyond providing dedicated time and space in Montgomery Hall's state-of-the-art studios along with financial support, MANCC sees documentation and media as vital tools for achieving its mission, which is to raise the value of the creative process to our field as well as to the general public. To this end, MANCC offers the videography and photography services of its full-time Media Specialist, Chris Cameron, to document artists' work while in residence and generate edited media content. The format of residency documentation is determined in collaboration with resident artists, and has included slideshows, interviews, and filmed rehearsals and work-in-progress showings.
Artist-approved content is shared on the MANCC website, giving funders, presenters, the field-at-large and the public a window into the creative process, while focusing on the importance of research in creating strong, robust works of contemporary dance.  
Cameron has been on staff as Media Special since 2011, providing the public with a window into the individual creative practices of artists and the arc of their projects while in residence at MANCC. Cameron, who received a BFA in Studio Art at FSU, is experienced in web development, graphic arts, and digital video production, and has collaborated on a number of freelance dance video projects.
Most recently, his short-form documentary of Alice Sheppard's fall 2017 residency has been selected for The Other Film Festival, the first and foremost disability film festival in Australia, and will screen in November 2018. Cameron's work continues to expand MANCC's singular archive of photo, audio and video materials. To see more of his published videos and photos of this year's hosted artists, please visit mancc.org.