Martha Hadley Interns as Communications Blogger for CFA
Internship
"Despite my love for writing and chemistry, I have always had passion for the arts. While studying abroad in Florence, Italy, I contacted Anna Prentiss, the Communications Director for the College of Fine Arts, about an internship to fulfill my EWM requirements. Having fallen in love again with the timeless art of the Renaissance, my internship became an extraordinary experience to learn about modern artists and revolutionary developments in the arts, and it has served as an escape from the pressures of my final undergraduate semester. I love what I do, I learn something new and applicable every day from it, and I couldn't have had a better supervisor.
Being a Communications intern, I write posts for the various departments of CFA, shining light on the events, alumni, visiting scholars, and other exciting news. This gives me a front row seat to everything amazing happening throughout the college. Moreover, I help write mass email campaigns and I edit sites' broken links, attempting to increase the user friendliness for future explorers of the art frontier. I've learned some basic HTML coding and familiarized myself with multiple communications interfaces that prepare me for an wide array of 21st-century careers."
Aspirations
After graduating this spring, Martha plans to spend the summer reading, painting and relaxing with her guitar in the mountains of Brevard, North Carolina before working in Florence, Italy for FSU's International Programs during a gap-year. Currently applying to numerous fellowships and graduate schools for the 2020 academic year, Martha hopes to earn a master's or doctoral degree in Environmental Policy and further develop her research in environmental sustainability and globalization, creating a model for the world's next era of community, discovery and sustainability. Her dreams include, but are not limited, to being paid to travel the world, helping developing and developed countries achieve sustainability and social equity, and becoming a global citizen, integrating into different cultures and appreciating every wine and cheese she encounters. By working towards a position within the Foreign Services, she believes she can accomplish these dreams, making tangible changes for the benefit of the world's people.
---
Photos courtesy of Martha Hadley
---
Background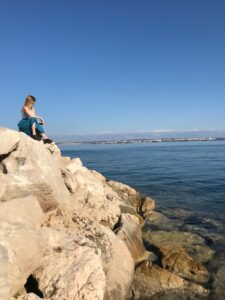 Although she was never given an easy set of playing cards, Martha always found a way to reshuffle them and win big. Getting paid to attend Florida State University, she
doesn't allow any obstacle to stop her from achieving her goals. Instead, she uses these obstacles, such as youth homelessness, stressed family relations and mental illness, as valuable learning experiences, tucking them away in a file of her brain for future use. As a passionate member of society, she volunteers with the Environmental Service Program and the Food Recovery Network, she served as a Board member for the Unconquered Scholars Program for two years and she's graduating the Global Citizenship Certificate program on April 23, 2019.
In high school, the band director caught her playing piano in the auditorium, a place where she wasn't supposed to be at the time. Instead of bringing her to the main office, he offered her the pianist seat of the school's Jazz Ensemble. She had to learn to read music in less than a month in order to play the first concert, but that didn't stop her. Martha is a self-taught artist. Prior to Jazz, she used YouTube, learning to play piano pieces ranging from Beethoven to Metallica, and she taught herself to play guitar. Having recently gotten a 12-string, she's excited to master a new style of playing.