School of Theatre Alum Christiani Pitts, Featured in Vanity Fair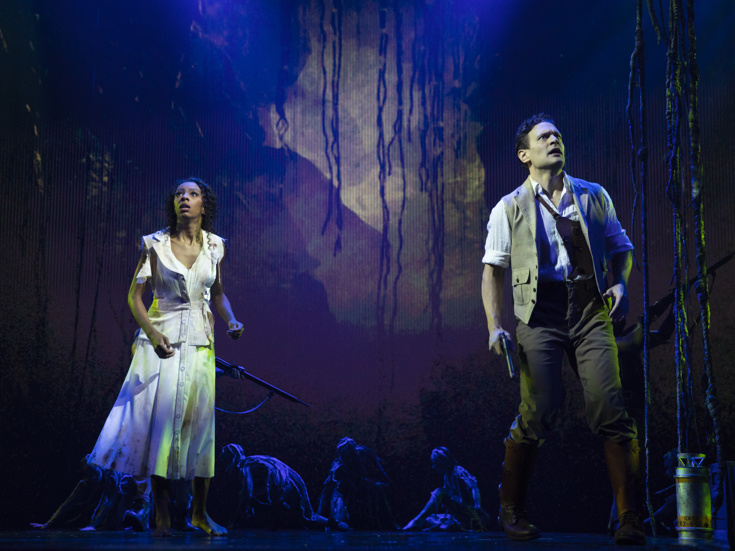 When Christiani Pitts walks into the Broadway Theatre and steps into character for King Kong, she talks to her late grandmother, Roberta Mae. Roberta Mae, a black woman from Florida and born in the early 1900s, lived a life much different than her granddaughter.
"She, for me, is a huge legacy that I kind of pulled from for the role," Pitts, the first woman of color to play Kong heroine Ann Darrow, told Vanity Fair."She went through an arranged marriage and some things that were culturally appropriate at the time, the 1930s. I just feel like if she had the chance to tell her story from her perspective right now, she would do it in a way that is as epic as King Kong on Broadway. I feel so incredibly honored because I'm taking her struggles as a woman, as a black woman, and I'm putting them on a stage in front of thousands of people every night."
Pitts, who grew up in Montclair, New Jersey, from the time she was 10, auditioned for the role last year when she was still starring in Broadway's A Bronx Tale, and actually enjoyed the audition because she never thought she'd get the role.
"I had a lot of fun just sort of being carefree in the audition room because I always felt it was so much bigger than people could see me as," she said. "It was fun to play this character who has this insane amount of confidence in herself."
Ann Darrow is a wide-eyed actress from a farm background who, in the King Kongfilms of the past, has presented as somewhat of an ingénue. She represents the archetype of movie stars that were seen on the screen in the mid-1900s. As a woman of color in the role, Pitts adds dimension to the story of a woman who, by her own strength and drive, achieves the dreams that others told her were impossible.
Her co-star has been played, on film, by men in gorilla suits or a C.G.I. creation. Pitts shares the stage with a 2,000-pound, 20-foot-tall silverback gorilla puppet, which arrived from Australia about a month before previews started for the show. Kong, whose limbs are operated by 10 actors, towers over the audience and shares the spotlight with Pitts for much of the show. Pitts admits she gets overwhelmed by his sheer size, and can't exactly disappear into the role the way she might with a human leading man.
"Even sometimes when I'm under his stomach during the fight scene, I'm like, 'Please don't collapse'; he's huge. I try to keep myself aware that he's a puppet, because the second I let it slip I'm like, 'Uh-oh I might just forget what I'm doing and really try to break his chains and save him.'"
In many moments the musical adaptation is a perfectly choreographed dance between Pitts and the actors moving Kong. She said they have to communicate solely with eye contact, while a head puppeteer communicates with the actors inside Kong from a booth offstage. And all the while this intricate dance is happening, Pitts is thinking about the audience members who are taking it in—who, during Thursday's opening night, will include her seven-year-old niece, who heard Pitts's opening song, "Queen of New York," and had a request.
"She asked me if she could be the princess of New York, since I was gonna be the queen of the New York," Pitts said, her voice cracking a bit as she recalled the memory. "It just brought me to tears and it just reminded me that this is a role that hopefully little girls will look up to and aspire to. It's an action show, and little girls are going to see it and hopefully want to do it. . . . Anybody can do it whether you're black or white or brown. As long as you believe in yourself you can play the part."
Pitts is making history as a woman of color in the role, but with one white and one black understudy, she allows that there are many versions of Ann Darrow in this Kong iteration. "The roles are created so that a woman can get up there and tell her truth, whatever that truth is," she said. "It's so much fun because my truth is going to be different from a woman of a different race."
And a major part of Pitts's truth is always her grandmother's story. The last thing her grandmother saw her perform was The Wiz, when she was in ninth grade. But she's become part of King Kong, too. After Pitts told the writer of the show that her grandmother's name was Roberta Mae, he wrote in a reveal that Darrow's real name is Anna Mae. Pitts sobbed when she found out.
"I am a firm believer that she gets to see the show now from where she is."