Symposium on Global Blackface & Global Minstrelsy Presented by FSU School of Theatre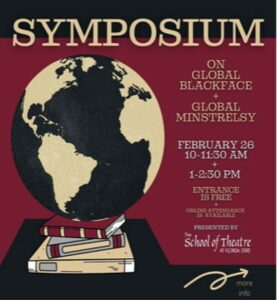 FSU School of Theatre hosted a symposium on Saturday, February 26 centered on Global Blackface and Global Minstrelsy. Moderated by Assistant Professor Kellen Hoxworth, the hybrid event featured four panelists, presenting on transnational circulations of blackface and minstrelsy through dance, music, popular culture, and festival performance across Jamaica, Mexico, South Africa, and other trans-Atlantic and transnational itineraries.
Assistant Professor Kellen Hoxworth, who organized the symposium commented,
While scholarship on blackface minstrelsy has primarily focused on its history and legacies in the United States, this symposium gave scholars an opportunity to consider how blackface and/or minstrelsy chart different trajectories and have different meanings across other geographies and contexts.
To redress US-centric biases, symposia organizers and presenters asked the following questions: What other historical narratives and critical trajectories may be possible by departing from the "nation" as the implicit frame for blackface scholarship? How might we analyze blackface globally? And what other political and discursive frameworks may make a different kind of sense out of blackface performance?
Featured presentations included:
Anita Gonzalez (Georgetown University) presented "Three Case Studies in Symbolic Representations of Blackness: Black Masking in Mexico, Irish Blackface, and Gendered Performances in the Maritime World."
Danielle Roper (University of Chicago) shared "Delcita: Blackface and Double-Voiced Resistance in Postcolonial Jamaica," her work on blackface in contemporary Jamaican popular performance.
Thomas F. DeFrantz (Northwestern University) presented "Dancing in Blackface," his research on the possibilities and limitations afforded by blackface masking in dance performance.
Chinua Thelwell (College of William & Mary) shared work from his book, Exporting Jim Crow, which maps the circulation of blackface performance in colonial, apartheid-era, and post-apartheid South Africa.
FSU's symposium was the first event in a series of collaborations. In November 2022, the presenters and FSU's Hoxworth will join additional scholars at a symposium on the subject at Duke University. The scholars also anticipate the publication of an edited volume focused on the subject.
FSU School of Theatre Chair Kris Salata, PhD emphasized,
These elite scholars – who focus globally on the issue of race representation – provided our students and faculty with an opportunity to engage in discussion we greatly care about. I want to thank Dr. Hoxworth for envisioning, organizing, and moderating this remarkable event.
The Symposium on Global Blackface & Global Minstrelsy was funded in part by an Arts & Humanities Program Enhancement Grant (AHPEG) through FSU's Council on Research & Creativity.