School of Theatre Places 2nd in ASTC – USITT Venue Renovation Challenge

---
Join the College of Fine Arts in congratulating the School of Theatre's talented student-team members Erin Collopy, Kassidy Coburn, Zachary Briscoe, John Davis, Ryan Ponsell, Clifford Glowacki, Jackson Golden and Braeden Ingersoll for winning the 2nd Place Director's Award with a prize amount of $1,000 sponsored by USITT. For the fifth year, ASTC has co-sponsored this event in which teams select an existing venue, develop a scope of work for improvements and present their ideas to a live audience and Jury of ASTC members at a USITT Conference Session. This event offers university students, either graduate or undergraduate, the opportunity to be mentored by an ASTC theatre consultant thus exposing them to another technical theatre career path. The FSU Theatre students were proud to present their renovation project for The Richard G. Fallon Theatre. Their Theatre Consultant mentor was Christopher Sprague, of ASTC, and their Faculty Advisor was Jim Lile.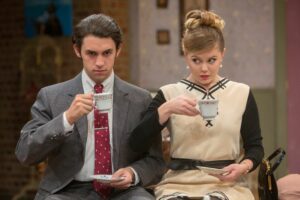 The judges commented that it was difficult choosing the 1st and 2nd Place teams, because all the teams did an excellent job and the choices had to be made on razor thin differences. Not only was this the largest number of teams (34) for the Renovation Challenge, but 2019 marked the first time that a team made up of all undergraduate students won 1st Place.  That was an epic achievement for the undergraduates from Emerson College.
The next Renovation Challenge will take place in 2021 with presentations in Columbus, Ohio at the 61st USITT Conference. Are you trying to to explore the spectrum of possibility as a student in the School of Theatre? Would you like hands-on experience with the incentive of being mentored by professionals? Go to https://theatreconsultants.org/astc-usitt-challenge/ to learn more and see examples of past award winning work. Become a member of FSU's next winning team for the 2021 USITT Conference and Expo!